Learn & Earn Intro with Linda Mclarty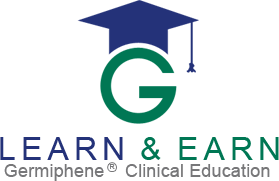 Throughout the year Germiphene offers seminars, hands on workshop and in office learn at lunch sessions that provide information so you can make the best decision for your clinic. Along with our fully trained sales rep team, our Director of Education, Linda McLarty is committed to providing you with evidence-based, scientifically sound information.

Our Learn & Earn program consists of learning sessions on topics requested by our customers. Contact your Germiphene representative to book a topic and time that works best for you, in the convenience of your own clinic. If you are interested in a topic that is not on our list, let us know!

Please contact your local rep for ongoing CE opportunities or email Linda Mclarty lmclarty@germiphene.com and she will refer you to the responsible rep.

Linda McLarty is pleased to offer the following complimentary on line educational courses to all members of your dental team.
Ontario Update - Covid 19 in a Dental Setting - PHO, RCDSO, CDHO - Linda McLarty
What are the current requirements in providing safe care for our patients during the ongoing Covid-19 pandemic? Are all of your dental team aware of the necessary PPE for all aerosol generating procedures? Are employee training records up-to-date? This webinar will review the requirements from RCDSO and CDHO as of the date of the webinar. Course objectives

1. Review current status of Covid-19 in Ontario.
2.Discuss regulatory requirements for screening patients, PPE, office policies and procedures.
This webinar is offered:
WED, Aug 17, 2022 – 7:00 PM – 8:00 PM EDT
THU, Sep 8, 2022 – 7:00 PM – 8:00 PM EDT
Dental Unit Water Quality & Monitoring - Best Practices - OSAP White Paper
How safe is the water used during patient treatment in your office? During recent years this concern has shifted from the category of potential to documented infection. This one hour presentation will present best practices reflected in the Organization of Safety and Asepsis (OSAP) White Paper on Dental Water Quality & Monitoring. Existing provincial requirements will be summarized. Course objectives:
1. Explain why the dental water delivery system facilitates the formation of biofilm as a source of water contamination.
2. Discuss various options available for water delivery systems that can reduce this risk.
3. Provide insight regarding water monitoring and how it can ensure safe care for all of your patients.
This webinar is offered:
MON, Aug 8, 2022 – 9:00 PM – 10:00 PM EDT
WED, Aug 24, 2022 – 9:00 PM – 10:00 PM EDT
TUE, Sep 13, 2022 – 9:00 PM – 10:00 PM EDT